Transitional Kindergarten/State Preschool Teacher Reimbursement Program
The El Dorado County Early Care and Education Planning Council is pleased to offer reimbursements for continuing education and professional development costs.
TKSP reimbursement funding is available for current Transitional Kindergarten and California State Preschool Teachers/Teaching Assistants for actual educational or professional development individual expenses. This may include reimbursement for credentialed teachers to complete up to 24 units in early childhood, or child development units, tuition, continuing education units in early childhood education, and books. Please keep in mind that this funding opportunity is contingent upon available funds from the California Department of Education.
Please click on the links below for Program Guidelines & Application Timelines and the Application packet.
To apply for the TKSP Reimbursement please do the following: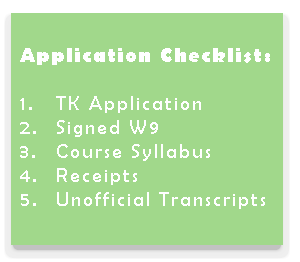 Review the TKSPSP Program Guidelines (revised 10-25-16).
Complete the CTKS Intent to Apply form.pdf and submit via fax (530)295-1506, email (lblackburn@edcoe.org), or mail (see address below).
Upon completion of coursework:
Complete the CTKS Reimbursement Application Packet (W9 must be signed.)
Submit your completed TK Application ALONG WITH copies of your class course syllabus (with assigned book titles if applying for book reimbursement), receipts (books, tuition, fees), and unofficial transcripts. You may submit by fax, scan (email to: lblackburn@edcoe.org), or by mail to:
Elizabeth Blakemore - EDCOE
6767 Green Valley Road
Placerville, CA 95667
Have you already applied for and received a TK Stipend Reimbursement?
You can reapply for additional coursework reimbursement. Simply complete the CTKS Reimbursement Re-Application and submit with your receipts, transcripts, and syllabus as instructed above.
If you have any questions or would like more information please contact: Lori Blackburn, (530)295-2403, lblackburn@edcoe.org.
More information about the Transitional Kindergarten Reimbursement Program:
New legislation (SB 876) added additional requirements for Transitional Kindergarten (TK) teachers. What are the new requirements?
SB 876 added additional requirements for TK teachers. Pursuant to EC 48000(g), a school district or charter school shall ensure that credentialed teachers who are first assigned to a TK classroom after July 1, 2015, have, by August 1, 2020, one of the following:
At least 24 units in early childhood education, or childhood development, or both.
As determined by the LEA employing the teacher, professional experience in a classroom setting with preschool age children that is comparable to the 24 units of education described in bullet 1.
A child development teacher permit issued by the California Commission on Teacher Credentialing (CTC).
Any current credentialed teacher who is or was assigned to teach TK, or a combination class of kindergarten and TK, on or before July 1, 2015, is "grandfathered in" to teach TK without having to meet additional requirements. Any credentialed teacher assigned to teach TK, or a combination class of kindergarten and TK, after July 1, 2015, will have until August 1, 2020, to meet the above-mentioned education requirements. (Information taken from California Department of Education - New TK Requirements)
Resources
TK Professional Developement Resource Flyer